DRS Deutsche Retail Services AG
Specific solutions for the beverage trade/kiosk
The portfolio of DRS Superdata has special characteristics for individual retail sectors. The solutions consider the distinct features of a business model that are crucial for the company's success.
All sector solutions have their full integration into the high performance merchandise management and POS solution from DRS Superdata in common.
Empties POS and deposit
Empties POS and deposit handling, functions such as bottle/crate or mixed crates, the selling of goods on commission as well as rentals provide the basis for comprehensive service to the customer.
Integration of branch peripherals
The integration of branch peripherals such as machines for empties as well as electronic shelf labels is easily possible at any time.
Inventory management
Based on accurate inventory management, process optimisations can be implemented with automatic scheduling or permanent inventory.
Optimum processes, minimum workload
The requirements for merchandise management and POSs in the beverage trade are diverse and include consistent logistics, the simple receipt of goods, seamless product availability, the handling of empties, goods on commission and much more.
Our drs//HQ and drs//STORE solutions for merchandise management offer these functionalities for all constellations of the beverage trade – from small retailers to wholesalers.
In combination with the drs//POS POS software, the sector specific requirements are optimally fulfilled. Our goal is to optimise processes in order to minimise workload and maximise transparency.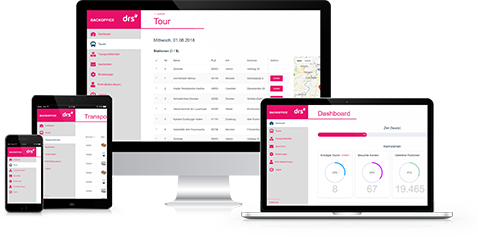 Loss prevention and delivery service
Losses run high in the beverage trade, especially in association with empties. This often goes undetected for a long time. Our drs//LP loss prevention solution offers proactive monitoring and with it, early detection of the perpetrators. It also establishes the amount of loss. The functions offer considerable time savings and lead to a significant reduction in inventory differences.
New opportunities for the merchant are also created by drs//DELY, the supplement for the delivery service. This solution maps the delivery, the management of the empties as well as vehicle management without the need for paperwork.
Advantages of the delivery service
Tour preparation with the picking of orders and vehicles
Planning of routes Track & trace taking traffic information into account
Delivery incl. checking of unloading with documentation as well as returns
Follow-up processing of the tour in the form of complaint management and damage assessment